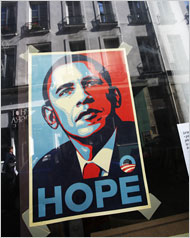 In tune with the current Obama fever :D.....


Shepard Fairey is one very lucky artist!!
From skate board artist to "official" Obama portrait artist. He worked on the image on his own ( Not commissioned work ) after hearing Obama's speech and feel that this guy is worth supporting. His popularity increased a million fold after Obama 's success. That one image is now as memorable and captivating as the
Che Guevara poster image
.

This reminds me that we have to be aware of our surroundings and hopefully what we create is not just beautiful but hopefully a worthy social commentary. ( and take a good look at this article posted by Bella )