Hi all.
The Animal Lovers League
2007 Calendar has been out for a few months.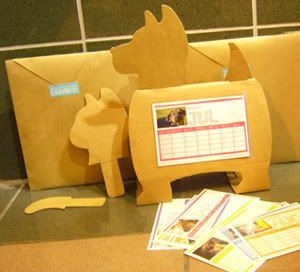 This is a calendar:
- that can be constructed into either a dog or a cat (both heads and respective tails are included in the pack)
- that can be re-used as a photoframe. don't we all love recycling?
- which entire sales profit go into sustaining an animal shelter that houses more than 500 cats and 200 dogs (this shelter has a no-kill policy, which means the animals get to live there to a ripe old age even if they do not get adopted)
- that allows you to customise it. talk about exercising of creativity.
please do support the cause, especially if you still want to get a gift for that animal-loving friend of yours. At only $10, this is a fun and meaningful product.
***
As the calendar is also an canvas for anybody to exercise his or her creative muscles, we've been receiving pictures of customised calendars. one of the volunteers at A.L.L. set up a flickr account to showcase them:
YOU CAN SEE MORE OF THEM HERE
some of these were actually done up by members of OIC! thanks to Flee, WDB, Eeshaun and Ann Gee, those that you guys customised had helped fetch good money for the shelter. On behalf of the animals, thanks!
***
This is a copy that i had drawn on, for Juan. The mermaid is one of my characters, Mamarine, who has a receding hairline and suffers from low self-esteem.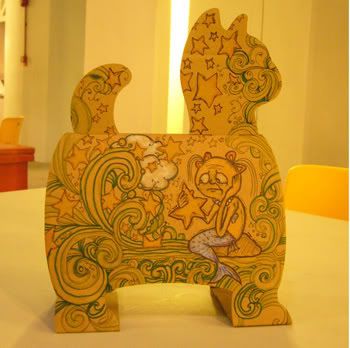 ***
"The greatness of a nation and its moral progress can be judged by the way its animals are treated."
-Mahatma Gandhi